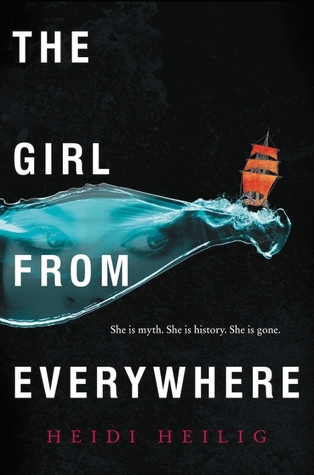 Book:
The Girl From Everywhere
Author: Heidi Heilig
Release date: February 16th, 2016
Rating: 5/5 stars
Review: Before I read this book, I was in a reading slump. I tried reading at least 5 other books, but I couldn't really get into any of them. But the moment I started reading this book, I was hooked. It has a perfect combination of adventure, family problems, time travel, and romance.
The only thing I don't like was the love triangle. There are two boys: Kashmir and Blake. I HATED Blake.. The funny thing is, he is an awesome character, and if he didn't get in the way of Nix (the main character) and Kashmir, he would be one of my favorites. However, this isn't the case, so I can still be heard screaming "just die already" to my book.
I definitely recommend this book, and I can't wait until the next one comes out! It's hard to believe that Heidi Heilig is a debut author, and I'll definitely be reading all of her future books!
-Serena :)