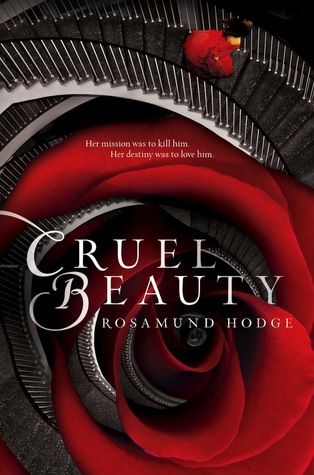 Book:
Cruel Beauty
Author: Rosamund Hodge
Release Date: January 28th 2014
Rating: 4/5 stars
Review: Well, this book was better than I expected. Like, way better. Mind-blown better. Last year, I read Rosamund Hodge's new(er) book: Crimson Bound. It was okay, but there was nothing special about it that stood out to me.
This book was different.
Everything Crimson Bound was lacking in, this book had. There was better character development, better mystery, better characters and better romance. The list goes on and on. One thing I especially loved was the way that, although it's a fairy tale retelling (of Beauty and the Beast), there are so many new and different aspects that made it refreshing to read. There's even some Greek mythology mixed in. I definitely did not expect that (in a good way)!
Another major part of the book that I absolutely adore is the main character, Nyx. She's not like most YA main characters, who are all a different version of "no one can choose my fate but me." She know's exactly what she's destined to be, and she's not ignorant enough to try and change it. Although many people would consider that a weakness, I believe that there's a certain strength in knowing what you have to do and accepting it, even if you realize it will destroy you.
The only major complaint I have against the book was the ending. The entire time I was reading it, my mind was on an endless loop of "wait what?" and "I am so confused right now." Eventually, after several times rereading the last 20 or so pages, I understood what was happening, but I didn't like it. Basically,
(SPOILERS)
it changes Nyx's entire life, as well as the last 900 years of history. And to make it worse, then she randomly(ish) remembers her alternate life that was destroyed again. Then she goes on to live happily ever after.
(END SPOILERS)
No. Just... no. I may end up traumatized by an unhappy ending, but at least it would feel less forced.
Would I recommend it: Definitely! This book is perfect for a rainy day, so grab a cup of tea and get reading!
-Serena