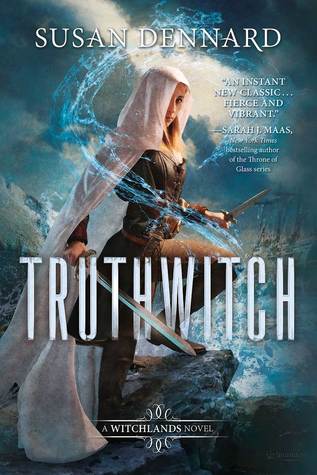 Book:
Truthwitch
Author:
Susan Dennard
Release Date:
January 5th 2016
Synopsis (from Goodreads):
In a continent on the edge of war, two witches hold its fate in their hands.
Young witches Safiya and Iseult have a habit of finding trouble. After clashing with a powerful Guildmaster and his ruthless Bloodwitch bodyguard, the friends are forced to flee their home.
Safi must avoid capture at all costs as she's a rare Truthwitch, able to discern truth from lies. Many would kill for her magic, so Safi must keep it hidden - lest she be used in the struggle between empires. And Iseult's true powers are hidden even from herself.
In a chance encounter at Court, Safi meets Prince Merik and makes him a reluctant ally. However, his help may not slow down the Bloodwitch now hot on the girls' heels. All Safi and Iseult want is their freedom, but danger lies ahead. With war coming, treaties breaking and a magical contagion sweeping the land, the friends will have to fight emperors and mercenaries alike. For some will stop at nothing to get their hands on a Truthwitch.
Rating:
4/5 stars
Review:
This book has been on my TBR list since the first time I read the synopsis several months ago. It sounded exactly like the type of book I would love, and I was desperate to read it. I even bought a paper copy of the book, which I almost never do (library=reading for free). Thankfully, the book lived up to my expectations, and I loved the world, the characters, the writing style, and most of all, the magic.
Safi and Iseult, the main characters, are best friends and "Threadsisters," which basically means they'll do anything for each other. The bond between them is an interesting addition to the book, and helps makes me like them much more than I would. Another thing I love about them is the way they contrast each other. Safi is the sun while Iseult is the moon, and neither would be complete without the other. On top of their awesome magic skills, they're both great fighters and it's really fun to read about the way that they beat their opponents.
Another thing I loved in this book was the magic. The way it was woven in was beautiful—not too much of it, just enough that it added another layer to the story. Both Safi and
Iseult use their powers all the time, but it's not their only skills and they don't rely on them to survive. The world itself is deeply entwined with the magic of the land—and how that magic is missing.
The only thing about this book that threw me off slightly was that it was hard to get into the flow of the book. For the first 100 pages or so I had trouble connecting with the story, and I couldn't concentrate on what I was reading. However, it gets much more interesting by the time you reach the halfway mark, and it's definitely worth sticking with. This is the only reason I didn't give Truthwitch 5 stars, and I'm glad I stuck with the book because the second half was amazing.
Would I recommend it: Yes, this is an amazing book and you're missing out if you don't read it!